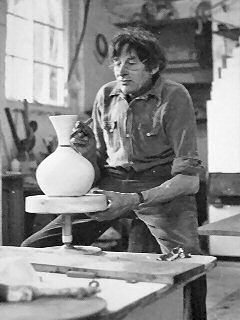 Robert Blatherwick in his workshop in Reepham, 1976
Robert, known as Bob to his friends, was born in Lincoln, the son of a carpenter. He left school at the age of 14 to study at Lincoln School of Art.In 1940 he was awarded the Gibney Art Scholarship and went to Wedgwood's in Stoke-on-Trent.
In 1941-42 he was employed by Michael Cardew to be in charge of the pottery at Winchcombe, when he, Ray Finch and Sid Tustin were absent. Upon the return of Ray and Michael they worked together with numerous visitors until Winchcombe pottery closed.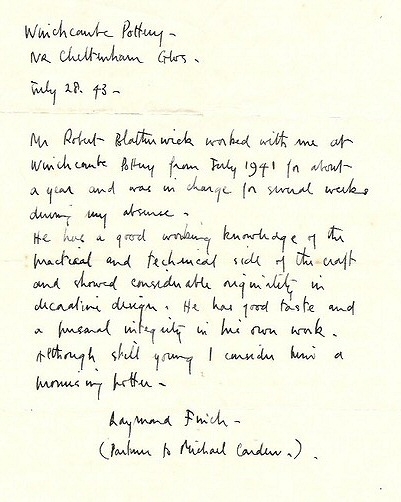 Reference from Ray Finch
Robert was then employed by Bernard Leach as his assistant and thrower in St Ives, as William Marshall had been 'called up'. Robert was exempt from war duties as a result of spine curvature that occurred in his teens.
He returned to Lincoln to teach at the School of Art, producing both earthenware and stoneware ceramics. In the 1950s he bought a redundant bakery which,
with his wife Marjorie he designed and converted into living accommodation with showroom, much influenced by Bernard Leach's ideals expressed in A Potters Book. In 1967 he resigned from his teaching post, following dissatisfaction with post-Coldstream art school reorganisation. He had three children under the age of ten.
From this point on from his workshop at home he made earthenware ceramics. He was involved and sold work in the early years of the Craftsman Potters Association, exhibited regularly, and had orders from all over the world. The family existed solely on the income generated from his ceramics. The business was managed and run by Marjorie, who also cooked, cleaned, drove, kept bees and made our clothes.
He created individually designed earthenware, including domestic ware, jewellery, sculptural forms and tiles. His designs, bodies and glazes were constantly under review, exploring what he believed to be the untapped potential of slipware and earthenware glazes. His work was often unmarked, as like Hamada, he believed that a pot should speak for itself.
He had been planning on building a stoneware kiln in the garden when he died in 1993. His experiences with Michael Cardew and Bernard Leach had a huge influence on him, but he strived for individuality and to be different.
| | |
| --- | --- |
| Career | |
| 1932-40 | Studied at Lincoln School of Art |
| 1940 | Awarded the Gibney Art Scholarship. To Wedgwood's, Stoke-on-Trent |
| 1941-42 | Employed by Michael Cardew at Winchcombe Pottery |
| 1942-43 | Employed by Bernard Leach at the pottery in St Ives |
| 1943-67 | Lecturer of Ceramics at Lincoln School of Art |
| 1967-93 | Self-employed, studio potter, Reepham, Lincolnshire |