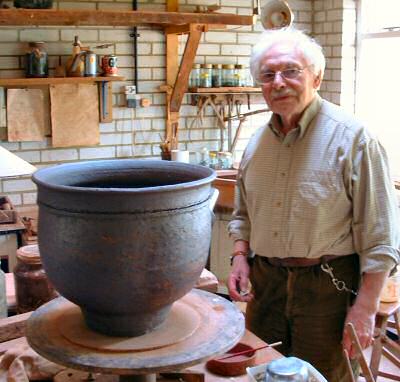 Peter Stoodley with one of his garden pots
Peter Stoodley was born in Winton, Bournemouth) in 1920, the son of a watchmaker. It was always assumed that he would follow in the family business but his father died suddenly in 1938 and the shop had to be closed during the war.
A short spell in the Royal Signals ended for Peter following a motorcycle accident in 1942. He was discharged and gravitated towards art. Although disillusioned from any competitive enterprise, growing up with the tools that his father was using, had instilled in him the importance and values of craftsmanship.

He enrolled at the Bournemouth College of Art, doing life drawing, before going on to take the Art Teachers Diploma in 1948 at the London Institute of Education. There a craft had to be studied for one afternoon a week and Peter chose pottery at Camberwell. It was his only formal training in pottery.

His first job in autumn 1948 was to start a Pottery Centre at High Barnet.
"I had only just qualified when the school leaving age was raised from 14 to 15. It was thought a good idea to send them [the children} to pottery. Chaos reigned and by 1950 I had had enough. I left teaching and returned to Bournemouth intending to work in craft pottery. All I could find was work in the making shop at Poole Pottery - sticking handles on jugs and wings on seagulls - but I learned a lot there and never regretted it. To keep my throwing hand in I enrolled for evening classes at Bournemouth College of Art where I met David who had just been appointed."
In 1951 David Ballantyne lost Margaret Craig to Southampton and there was a vacancy which Peter was offered working as a teacher and a technician on a wage of £5 a week, the same as at Poole Pottery. This enabled him to start his own pottery at Ferndown where he began making the large inlaid slip planters that are still his trademark. These were fired in an oil drip kiln which to Peter sounded like bacon frying.

During the late 1950s and early 1960s Peter worked with David making the famous Saviac SK110 geared throwing wheel and several kilns designed by him.
Peter's pots are said to have an African influence. Peter explains:-
"It was reading Bernard Leach's Potter's Book in the 40s that opened entry into a world of craftspeople making simple things for use that impressed and remains with me still. When I saw Ladi Kwali working at Bryanston in 1962 I was amazed at the skill and speed with which she built pots with a fluid method we call coiling. The laborious technique I employ does perhaps lead to a convergence of appearance unconsciously so, but one which I welcome and gives me an accolade I respect deeply. Michael Cardew [1901 - 1983] had brought Lladi Kwali [1925 - 1984] from Abuja, Nigeria to work with him at Winchcombe in Gloucestershire."
Peter was a founder member of the Craft Potters Association and later became a Fellow. In 1961 he became a full time lecturer at Bournemouth and remained there until retirement in 1980. He lived in Boscombe until 1987 where he moved to a shared bungalow built within the ramparts of Buckland Rings near Lymington, where he used a gas kiln.