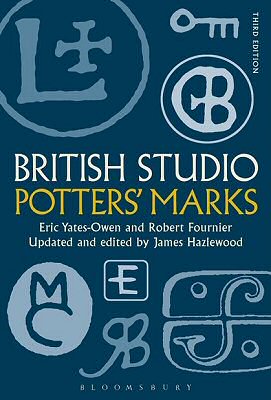 Many years ago I received an email from James Hazlewood asking about a couple of mugs he had found in a charity shop. At that time he was a complete novice and was very pleased when I told him that they were by David Leach - one of the UK's most respected potters.
That was the start of James' journey, he is now a recognised authority on studio pottery and has done an excellent job in producing a new edition of the British Studio Potter's Marks book which is now fully up to date and will once again be the first port of call for identifying those mystery pots that all collectors come across on a regular basis.
The format of previous editions remains, starting with an alphabetical section with entries for all potters and potteries. For each there is a description, chronology and images of any marks used. Later sections provide lists based on types of mark, e.g., monograms, initials, etc.
My first use of the new edition was to look for an EP mark that I have on two pots that I had not been able to identify and eureka! it is for Beresford Pealing down in Lyme Regis, another mystery solved, thanks to James.

If you are a studio pottery collector I urge you to support James' hard work by ordering a copy from your local bookshop.